Dealer Information
Hello Dealers,Traders and Exhibitors!
We wanted to take a few moments to thank you for choosing us to trade and exhibit with. Our aim is to make trading and exhibiting with us an enjoyable affair, so if there is anything we can do to make your weekend easier and more enjoyable please let one of the team know and we'll do our very best to help.
SHOW TIMES
SHOW OPENS AT 9:45AM – 5:30PM SATURDAY AND SUNDAY – THESE ARE NOT LOADINGS –
Passes
Passes will be available to pick up on arrival at the TRADER REGISTRATION POINT
Proceed to the main loading area, here our trader team will be on hand to help you get passes and show you to your table.
THIS IS THE RED SQUARE ON THE MAP, PLEASE VISIT THIS FIRST.
Instructions For Set-Up
PLEASE NOTE YOU CAN SET UP EITHER DAY – THE TIMES ARE STATED AS FOLLOWS.
(also please do not be confused, there is 2 Ice Rinks at the arena, one will still be open to the public

Loading Times
SET UP TIMES FOR TRADERS
Friday 4th May
Traders can start loading from 6pm to 9pm Please note, NO TRADER will be given access prior to 6pm.
Saturday 5th May
Traders can start loading from 7am to 9:30am Please note, all traders must be ready at 10am for doors open (do not arrive late with a 2 hour set up time!)
Sunday 6th May
Traders will be given access from 8am
Loading Procedure
On arrival at the venue you will be given access via the back loading bay, THERE IS NO PARKING AT THIS VENUE, please do not block the rear of the building and be thoughtful to your fellow traders.
Crew will be on hand to show you where you should register your arrival to pick up trader wristbands and to be shown where you can get free tea and coffee.
BACKING TABLES – if you have purchased a backing table you will be given a token on registration, this should be exchanged for a backing table which will be brought to your set up.
Breakdown will commence on closure of the show at 5pm SUNDAY.
Click map to enlarge
Directions to the Venue
Travelling by Car – Use M1 Junction 25 (South) or 26 (North) and follow signs for the City Centre. Where possible avoid using M1 Junctions 23a 24 and 24a (A453) as these are often heavily congested.
Motorpoint Arena Nottingham
Bolero Square,
Nottingham
NG1 1LY
Suggested Parking
As there is NO PARKING at the arena we have suggested 2 places to park, these are a very short walk (less than 5 minutes) from the arena and pretty much the cheapest places to park in the city. If you're using a van we suggest Queens Road car park, which is situated near Hooters Bar & Grill, if this is full there is another car park located at Queensbridge Road, alternatively the Train station also has a large car park.
Queensbridge Road Car park
Burnham Way
Nottinghamshire
Nottingham NG2 1NB
Nottingham Station
Carrington Street
Nottinghamshire
Nottingham NG2 3AQ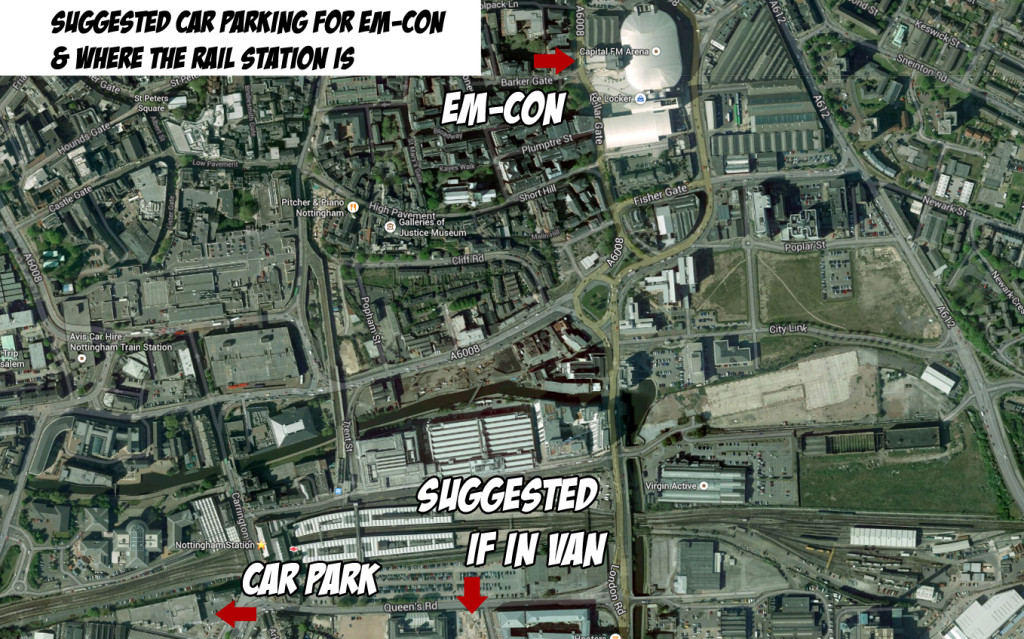 If however you would like to find your own parking may we suggest following this link as suggested car parks in Nottingham LINK