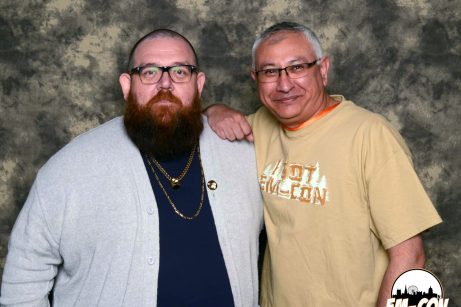 Photoshoots
For Digital Downloads from previous years, please head to Digital Downloads 
Booking Your Photoshoot
Photoshoots are the perfect way to record the day you met one of your heroes. They're taken by professional photographers and printed to the highest quality which makes them perfect for framing and cherishing.
EM-Con makes it easy to book photoshoots – just check the list below. Once you've booked you just have to wait for the photoshoot ticket to be mailed to you and come along to EM-Con 2023 to have your shoot! You even get to collect your photo on the day.
Once you have purchased a photoshoot will get a printed ticket to be redeemed at the photo areas, this is for one per person any additional people buying into the photoshoot will also be given additional person tickets with the shoot written on the ticket. Schedules will be posted prior to the convention and on the day, proceed to the photo area prior to the scheduled time.
Photoshoots do not cover entry into the event; please ensure you have a valid ticket.
Photoshoot tickets are valid once, for either day.


Questions You May Have
Is there a deadline for buying tickets online?
The deadline for buying a photoshoot online is usually a week prior to the event. After this you'll only be able to purchase a ticket on the day but we can't guarantee there'll be any available; for this reason we strongly advise buying in advance.
When are tickets mailed out?
Photoshoot tickets are posted out by Gigantic Tickets, any questions should be directed to them. 
*There is no refund on postage*

What time do photoshoots start?
Photoshoot sessions begin at 11am. We publish a precise schedule closer to the weekend of EM-Con.
Can another person join me in the photo?
Photoshoots are limited to the photoshoot ticket holder and ONE OTHER PERSON, but if you want to add more people you can pay to add persons. You can add a maxmimum of two extra people – meaning 4 people in total (yourself, plus one and two extras). The cost is 50% of the listed photoshoot price. For example; a £30 photoshoot is valid for TWO persons. To add one person will cost £15. To add another will cost £15. The total for FOUR people will be £60 in this example.
This can only be done on the day at the EM-Con Photo Kiosk.

Photoshoot swaps at the kiosk are allowed, but there will be no refund on any difference in price and this is done with the customer acceptance. 

What size is my printed photo?
Photos from the shoots are 9×6 inches
Where can I buy on the day?
While we recommend buying before the event, photoshoot tickets can be purchased from the EM-Con Photo Kiosk situated on the concourse in front of the main entry point. Please consult the map for directions.
Do I get a digital copy?
Digital copies will be available online after the event. These will be charged at £5.50 per download.
Can I change my mind on a photoshoot?
Unfortunately not; once the purchase has been made we're unable to change your selection. One advantage of the Gold and Weekend VIP options is that you can change your chosen photoshoot.
Can I get a refund on a photoshoot?
Unfortunately not; once the purchase has been made we're unable to give a refund, so please make an informed decision when purchasing.
Has my ticket been sent yet?
All purchases are from GIGANTIC TICKETS, please direct any questions to them. 
What if I lose my photoshoot ticket?
All questions should be directed to Gigantic tickets, however if they have posted out your ticket and you have lost it then they will not replace it. 
Group Shoots
All group shoots are sold subject to the availability of those guests being at the convention. If a guest cancels we will do our best to replace them for a like for like guest, if the photoshoot goes ahead as planned then there will be no refund or difference in cost refunded, last minute guests are often more expensive to bring into the event than the original guest.
We consider 2 or more guests to be a group.
The above is included on Group shoot tickets and VIP passes
Please check our TERMS AND CONDITIONS for more information.
2024 Photoshoots Available
Fresh Prince Group Photoshoot
More Details
Sir Tony Robinson
Maid Marian and her Merry Men, Blackadder, Man Down, Time Team
£30.00
Kris Marshall
Beyond Paradise, Death in paradise, My Family, Sanditon, Love actually
£25.00
Joseph Marcell
The Fresh Prince of Bel-Air
£25.00
Karyn Parsons
The Fresh Prince of Bel-Air
£25.00
Daphne Maxwell Reid
The Fresh Prince of Bel-Air
£25.00
Annette Badland
Ted Lasso, Doctor Who, Outlander
£25.00
Kandyse McClure
Motherland: Fort Salem, Battlestar Galactica, Charmed
£25.00
Jamie Bamber
Battlestar Galactica, Beyond Paradise, Hornblower, NCIS, Fearless, Strike back
£25.00
Adam Morris – SUNDAY ONLY
Maid Marian and his Merry Men
£20.00
Kate Lonergan
Maid Marian and her Merry Men
£20.00
Mark Allen Shepherd
Star Trek: DS9, Star Trek: Voyager, Star Trek: TNG
£20.00
Dylan Llewellyn
Beyond Paradise, Derry Girls, Big Boys, Holby City, Hollyoaks
£20.00
Catrin Stewart
Doctor Who
£20.00