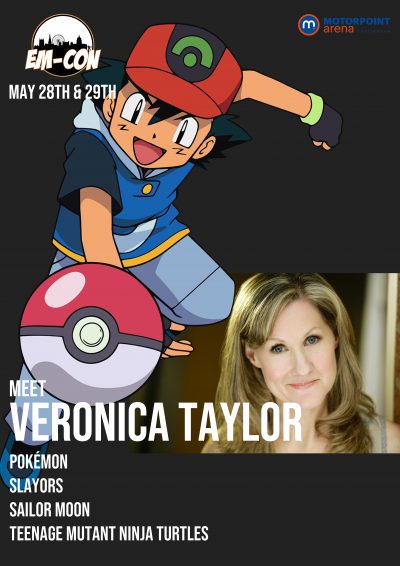 Veronica Taylor
Pokémon Slayors Sailor Moon Teenage mutant ninja turtles
EM-Con is happy to announce that Veronica Taylor will be attending EM-Con May 28th & 29th.
Veronica Taylor is a classically trained actor who found her way into
voice acting while performing in the Batman Stunt Show at Six Flags Great Adventure. She became a mainstay of Saturday morning cartoons,
best known for playing the original Ash and May on the first 8 seasons of "Pokémon", April on "Teenage Mutant Ninja Turtles" (2003- 2007) and roles in "Yu-Gi-Oh!", "Cubix", "Dinosaur King", "Winx Club", "One Piece", and more with 4Kids. Shows for PBS include "Word World" (Sheep), "Lunch Lab" (Mixiebot), and "Chuck Vanderchuck's 'something something' Explosion!" (Ramona). Current projects include Nickelodeon's Emmy nominated "Welcome to the Wayne" (Spy from 8- i), Netflix's "Shaman King" (Tamao) "Sailor Moon" (Sailor Pluto) and "Rilakkuma and Kaoru (Tokio), "Dragon Ball Super: Broly" (BerryBlue) "Dragon Ball Super" (Brianne/Ribrianne), Sprout's "Ollie and Moon" (flight attendant/ensemble) and "Astroblast" (Sputnik), "Aria" (Akari), "Mofy" (Mofy, Mogu, Sora), "Fire Emblem: Three Houses (Manuela), "Fire Emblem: Heroes" (Macaiah), and "Valkyria Chronicles 4" (Crymaria). Anime favorites include "Slayers" (Amelia), "His and Hers Circumstances" (Yukino), "Nana Seven of Seven" (all 7 Nanas), among others. She has done numerous voices for animation, video games, audiobooks, commercials, and documentaries.
Veronica Taylor will be appearing at EM-Con 2022 on
Saturday & Sunday